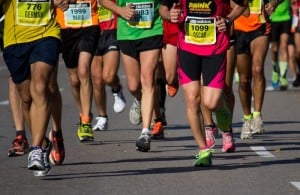 Over the past week runners have been finding out if they have been successful in getting into the 2016 Virgin London Marathon. Although if they don't get through the ballot some do then get in through the charity route. Whether through either option, it could be a time of excitement or fear!
For those that run with clubs or just run regularly clocking up miles it's a great time because they are already training for the event so they are geared up, know what training is coming their way and ready to go! We then have the newbie that has never run a marathon and just thought "I'll enter it and see what happens". Now they are in, with little training, what to do next? If this is you DON'T PANIC! Have a read below for some tips for training to help keep those niggles at bay! And even if you are a regular runner, there may be something below that could help you too.
Here are my 6 big tips!
HYDRATION:   Ensure you drink enough fluids during your long runs, before and after. If you get up early in the morning after an 8 hours sleep, remember you haven't drunk anything for a while, so before is quite important. Sweating loads will lose important electrolytes in the body and you can easily replenish these with coconut water and sports drinks. You can weigh yourself before a run and then after to see how much water you have lost but you can also go by the old fashioned way by keeping an eye on your urine. Clear is good, brown isn't!
PACE YOURSELF:  Don't go mad, if you are panicking about the mileage you need to get a plan. These are easily available from virgin marathon or even runners world. A plan is a great idea. It not only helps you stay focused, it also ensures that you are not over doing it, which will prevent any injuries!
STRETCHING:   Make it a part of your training. Do it straight away, focusing on all muscles of the body, you don't just use your legs when you run! You are using upper body too. If you are unsure how to stretch please visit my website, you will find loads of stretches on there, with tips too. Click here for stretching advice
SPORTS MASSAGE:    Having a regular monthly treatment until your race day will help your recovery process even more. I will be able to let you know if you are over using a particular muscle which will help you prevent it from getting injured. Having a treatment after the race too will also aid recovery but there will be another blog on this nearer the time!
DIET:    We have talked about drinking but food plays a vital performance. Ensuring that your body has enough energy to get you round just doesn't start pre run, it goes on throughout and after. Eating needs to be no more than 20 mins after training to aid recovery. A good source of protein and carbs will help the muscle fibres rebuild to recover and get stronger. They will also help to reload your
glucose levels to where they need to be. Also during your run, as the runs get longer you will need glucose in our body to aid muscle function. A small suggestion would be jelly babies! These are a great source, small and easy to store but there are other things too. On that note I would seriously recommend that you get a plan of some sort for your nutrition. People go wrong here and this can lead to serious problems, fatigue, muscle dysfunction and many more
REST:   My favourite word! Rest is vital to your performance. This is where a good plan comes into place. If you upload a plan from the websites already discussed you will find that they implement rest days into your training. These guys know what they are talking about. If you are someone that currently does body attack or body pump 3 times a week, you are going to need to change this. You need to incorporate strengthening and conditioning on the muscles you are using. Otherwise if you continue to exercise your normal routine you are again over using these muscles and will end up injured.
Sara's final word!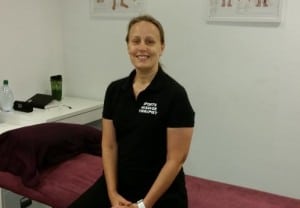 All the above will have a great effect on your training, your recovery and staying injury free. From now until race day, think like an athlete to perform like one!
For updates, discounts please follow me on my website and social media platforms Fitness Therapy 4  you