Hi everyone.  I am going to talk to you about foam rolling.  What it is, why use it and some great videos to get you started.
First of all what is a foam roller? The picture below shows my home selection but will also give you an idea of what you may find in your local gym.   Foam rolling has been around for years and every now and again a new roller comes out which helps do the job slightly differently but I always go back to my old faithful friend, the original roller: pictured below.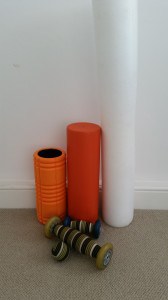 The roller is designed to self massage area's and release soft tissue which will increase circulation to the area, so great for both pre and post exercise and also for preventing injuries.   This is not a substitute for sports massage!  It is there to help the process and make your treatments better.
As you can see from my first picture there are quite a few different types of rollers available.  If you are new to rolling then I would suggest that you use purchase the one Jackie is using in the video clips.  You can then progress to a harder and difficult roller once you are used to the process.
To purchase the right size etc, go to the following links page on my website and you will see how to purchase:
http://fitnesstherapy4you.co.uk/links/
 Rules of rolling:
There are some simple rules to rolling that will help you get the most out of it and also be safe too:
Apart from the back, always roll towards the heart.  Never roll the opposite way, as this interferes with blood flow and you will end up getting lovely little spider veins on your legs!
Try to breath with the foam roller, nice deep relaxing breaths which will help both yourself and the muscle relax
Always aim for 30 to 60 secs rolling per section.  To begin with you will go faster than this and it's simply because you have never done it before.  As you get used to the roller, you will find that your seconds turn into mins.  But one thing at a time!
Remember this is a beginner's version of how to roll.  There are others skills to be taught or how to remove knots etc and we will touch on this next month.
Here is my You Tube guide to foam rolling.  Next month we look at advanced rolling!
Enjoy!
Sara