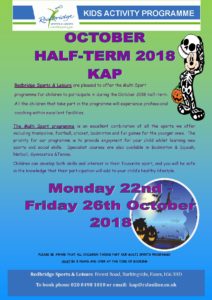 Redbridge Sports & Leisure offers an unrivalled Kids  Programme, combining the highest quality facilities with a dedicated professional coaching team to provide fun-packed weeks for your child, all in a clean, safe and healthy environment.

Throughout the school holidays we're running a range of specialist camps, such as, Trampolining, Gymnastics, Netball, Netball/Trampolining, Tennis, Squash & Badminton as well as multi-sports sessions for those who want non-stop action! Courses are available for all ages from 5 – 14; providing the opportunity to try a wide variety of sports on site, as well as a series of fun sessions such as Bouncy Castle, Football, Boxing and much more*.

Multi-sports weeks are packed full of fun from 9.30am – 3.30pm every day; and if that's not enough we offer extended days from 8.00am – 6.00pm, which is perfect for working parents (and for kids who just love sport!). The extended mornings are full of fun games with the evening session usually featuring a specially selected film to help wind down at the end of a fun-filled day.

Every week is supervised by DBS checked, hand-picked coaches, all with specialist sporting qualifications. If your kids have been before, they'll know what a great time they can have with us this summer, and for those who haven't – book your kids in early to avoid disappointment. Your kids will thank you, as they're guaranteed to have a great time and to make loads of new friends – so let them keep active with Redbridge Sports & Leisure.

* Full programme varies from week to week

We've now got more ways to book than ever before – you can visit www.rslonline.co.uk and make your booking online…alternatively for full details on other ways to book or find out more about the  Programme please call 020 8498 1010.