This year in Rio we saw the swimmer Michael Phelps display cupping marks on his back.  Even though cupping has been going on for many centuries it was the Olympics that have made everyone stand to attention. 
So what is cupping exactly and where does it come from?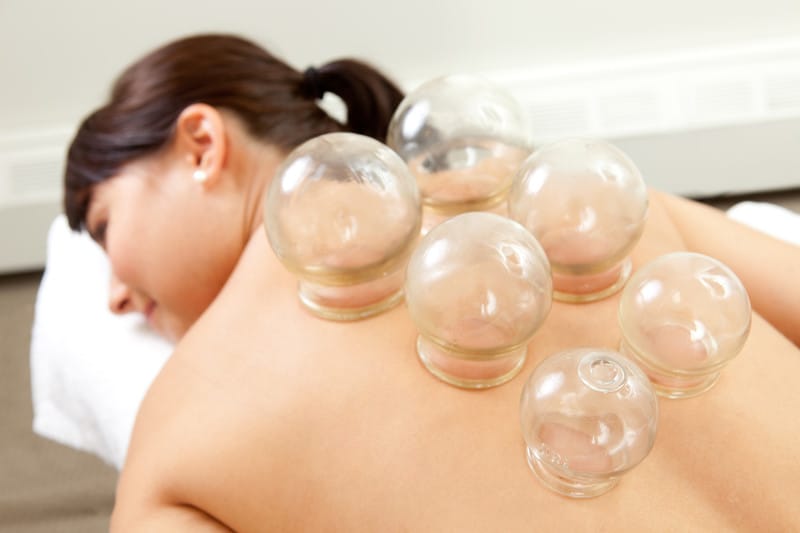 There is information to suggest that the Egyptians used cupping around 1550 BCE!!  Citations have been found from Hippocrates dating 400 BCE.
From this,  we can see quite some time!  The cupping back then was more to do with blood letting, toxins, which some cultures still practice today.   This is mainly now known as wet cupping, with cups being placed on and then small incisions made to release toxins.  There is also dry cupping and fire cupping.  Dry cupping is when you just use a cup with suction to the skin.  Fire cupping is what I am learning in college.  Where you light fire inside the cup and then straight onto the skin, which heats up very quickly!
The cupping you see today is somewhat slightly different to the Egyptians!  Cups are placed onto acupuncture point areas to stimulate and encourage blood flow to the area.   The feeling of cupping is slightly odd to begin with, a slight suction feeling which subsides and then heat.  The idea is to encourage blood flow to that area. 
This will help the muscle but also remember the point it is on will have a certain function and that will also be encouraged by the heat.  There are marks on the skin, how long they last depends on the person.  Mine lasted a week, someone I practiced on the other day, a few days…  I would definitely suggest that if you want this done that you think about where the cups will go, if you have a big date coming up…might want to wait!
So why does Michael Phelps do this?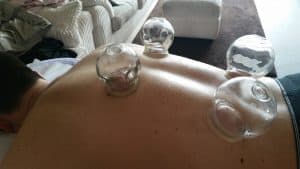 After any exercise, it is all about the recovery process.  Eating no more than 20 mins after, to help the muscle fibres recruit.  Stretching directly after training, so restore muscles back to their normal shape. 
Ice baths, help the recovery process and reduce DOMS (delayed onset of muscle soreness)  Sports massage to increase circulation, restore muscle function and flexibility and to bring focus to tight areas adding prevention of injuries….Cupping has a different effect by applying heat to a specific area, rather than a whole area it increases flexibility and encourages blood flow.  Which is great if you have somewhere that you are quite prone to niggles, cupping is a great way to focus on that area to increase the circulation, aiding in prevention of injuries.  The only reason it has sprung into the world of sport  is because of the mark it leaves…which obviously draws a lot of attention and if it's good for an Olympian then there must be a good reason why!
What's my opinion on this…well the research is out there, with some showing it helps knee pain, not only reducing pain itself but increasing the ROM (range of movement).  I am learning cupping at college (picture here of me practicing) but I myself haven't had much experience with using them to see what the end result it.  So I am about to start on a few guinea pigs to find.  So watch this space, more blog to follow on this subject!
Ref: 
http://hijamacups.com/books/4-investigation-effect-cupping-therapy-treatment-anterior-knee-pain.pdf (accessed 2nd October 2016)
www.acos.org (accessed 2nd October 2016)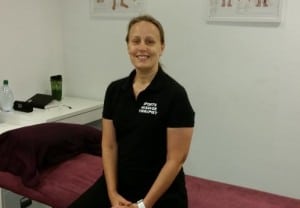 For updates, discounts please follow me on my website and social media platforms Fitness Therapy 4 you