During my first blog I mentioned that this was one of the treatments available in clinic.  I thought for this blog I would give more information about what it is, what is does and basically who would benefit from it.
SPORTS TAPE:
First of all let's look at association with the tape.  When you watch sport you may have noticed one of your favourite players wearing this tape.  It is very easy to see, very bright colours, compared to the other sports tape used, which are usually brown and tend to look quite thick.  Straight away you will look at the player and depending on where the tape is, automatically you are thinking "they have an injury" but you are not quite sure why.  The tape can be different shapes, sometimes more than one strip over the area.  Needless to say you are attracted to looking at this tape and you already know that he is being protected by this tape. Athletes have a big team around them ensuring they are well looked after.   How amazing it is that this tape is available to you too!
DOES THIS PERSON HAVE ACTUALLY AN INJURY?
When you watch any player with the tape on you assume that they have an injury….but do they?  Have a look at what it can do:
It can help aid the process of swelling
It can support an injury,
It can stop a muscle from being overused
It can train a muscle that is being underused!
I bet you had no idea of this.  When you next watch your player on TV, I am sure you will be thinking slightly differently about why they have the tape on!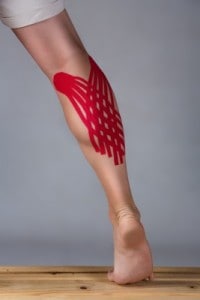 HOW EASY IS IT TO USE?
The tape feels like it is part of your skin, you don't feel like you have tape on.  Unlike the other sports tapes out there which you clearly do.  Depending on the person wearing, you could wear the tape for up to 6 days, you can bath and shower in it!  The tape doesn't take long to place onto the skin but the theory behind where it goes and why may take a little bit longer.  This is to ensure that you are getting the most out of it.
WOULD I BENEFIT FROM IT?
There are times when we need to help our bodies out a little bit to either encourage healing or take the load off the area.  This tape is great for that.  I wore the tape myself a few years back to see if I could re-educate my right quadriceps to work harder than my left.  From a previous injury I found that my left was always doing the hard work, even though I did isometric work on the right leg.  So I taped it, walked to the station and it was amazing.  For the first time I actually felt my left leg take charge.  I also know from clients that they feel either more supported with the tape or that it just does the job it needs to do.  So the answer to this is anyone!
 If you are feeling that you would like to try the taping then why not get in touch and book in a session to see how kinesio tape can help you!
Sara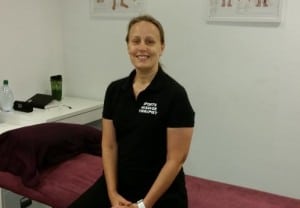 For updates, discounts please follow me on my website and social media platforms Fitness Therapy 4  you